Tender Reference:
Contract No.:ED/2021/01
Subject:
Elevated Landscaped Pedestrian Deck near MTR Kwun Tong Station
Description:
The works mainly comprise:
(1) construction of a covered elevated landscaped pedestrian deck of about 120 metres in total length;
(2) carrying out associated slopes, walkways, drainage, landscaping works and other ancillary works; and
(3) implementation of environmental mitigation measures for the proposed works.
The project commenced in August 2022 and it is anticipated to be completed by the end of 2025.
Contractor :
Kuly Construction & Engineering Co., Ltd.
---
Layout Plan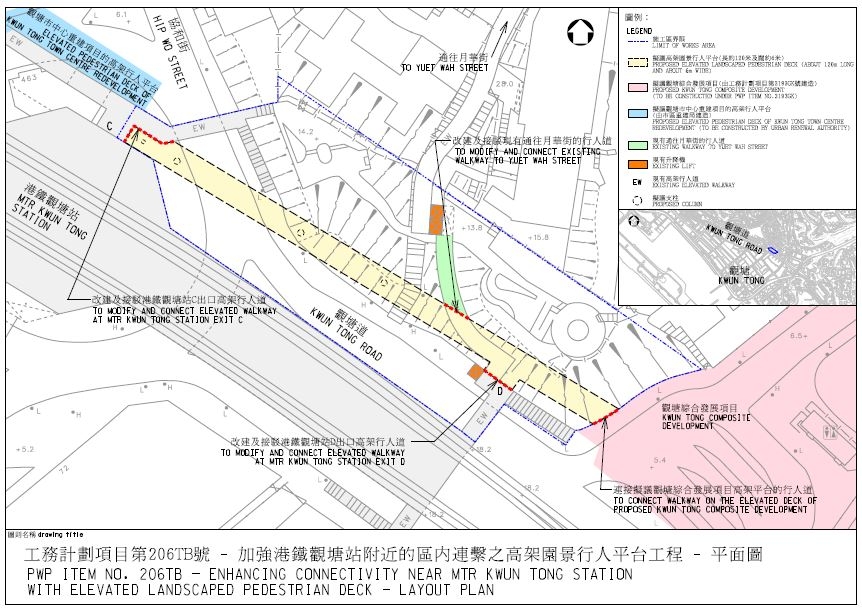 At present, there are two major planned development/redevelopment projects at the northern side of the MTR Kwun Tong Station (KWT), namely the Kwun Tong Composite Development (KTCD) and the Kwun Tong Town Centre Redevelopment. In order to enhance the connectivity within the district and the pedestrian accessibility, the proposed works will provide a covered elevated landscaped pedestrian deck connecting the existing elevated walkways near Exit C and Exit D of KWT, and the proposed walkway to be constructed under KTCD. This would facilitate the pedestrians to travel between the above developments and to Hip Wo Street and Yuet Wah Street areas more conveniently, without passing through the concourse of KWT, thus easing the pedestrian flow between KWT and the nearby major facilities as well as improving the walking environment.